Ad sense is a very powerful program.. if thats even what you would call it.. Look around this site real quick... Your going to see lots of ads from Google and also ads from me that go to my different website or maybe just a different page on this site...
The ads by Google are ads that the "ad Sense" program has automatically placed here on my site and are usually relevant to the content on the site.. So one big kicker is getting people to your website by advertising a pair of shoes and then having ads for shoes on your site ... Make sense right? Lets try it out..
Heres the link to the test Site I just made.. It might take a little time to see board games for sale on it but they will be there sooner or later...

Edited: 11/23/11 12:24 am
Ok, I have checked out the about link several time since I posted that ... Never once have I seen board games in the ad sense links... But, I was working on some other websites tonight and this ad showed up, this is an actuallal screen shot from my computer: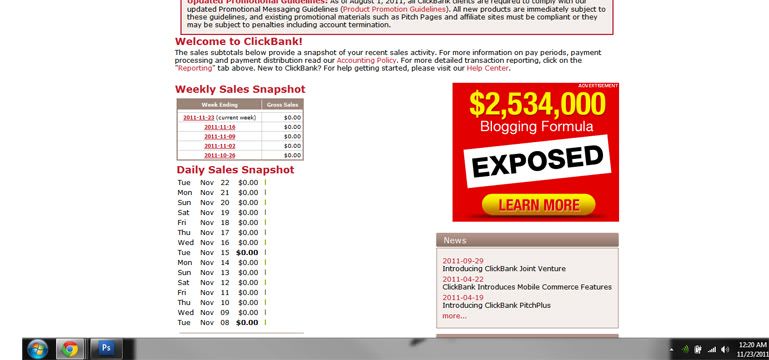 This is a screen shot of my clickbank account....
Crazy thing is I have been searching high and low to bring my consumers with the most up to date info about blogging and how to make money @ it...
NOtice the $2.5 million tag LOL I love it..
What ever I'm doing tho its working I have made money at it every day for over a week now!!! So Yeah that 9-5 that everyone tells me about can well you fill in the blanks, I defiantly don't need to offend anyone...
Its all about target marketing getting people to your site and advertising to them what they are looking for. You don't want people coming to your website that sells board games and have ads for cars flashing in their face. That's not going to create clicks and clicks are what pay you, Ad Sense has nailed this part of affiliate marketing.
So next time your out surfing the Worldwide Web, l@@k around at all the different ads that are making money for people and think to yourself.... "Can I do that?" The answer is yes anyone can that can put forth the time and effort!
If you have any questions about Ad Sense and how it works visit their site..